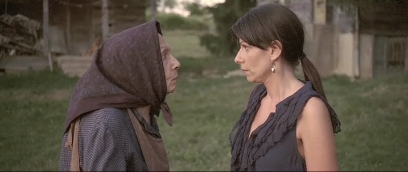 LAUNDRY
Lucia journeys home to Croatia, to visit her elderly eccentric mother. Comedy ensues, but she cannot escape the traumatic remnants of the Balkans War.
*In Competition at Rushes Soho Film Festival, Motovun Film Festival Croatia, Molodist Film Festival Ukraine and Women In Direction, Spain.
*Selected for Cannes Short Film Corner, Cinemagic Belfast, Estoril Festival Portugal, Les Arcs France, the London Short Film Festival and the British Palestine Film Festival 2011.
View trailer by clicking here.
View the film by clicking here.
EARLIER WORK
'Survivor' (15mins short, 35mm, 2007)
This 15min drama is about a traumatised Rwandan genocide survivor living in London, who finds a friend in a man going through similar experiences. Stars Shaun Parkes (Human Traffic, The Mummy Returns) and Cyril Nri (The Bill).
*Screened at the Pan-African Film Festival, Los Angeles, East-End Film Festival, London (nominated for Audience Award), Brighton Film Festival, Exodus Refugee Film Festival, Exposures Film Festival, the International Community Festival, Lodz Mediaschool and the Molodist Film Festival, Kiev.
*Selected by the British Council for representation.
*Winner BEST SCRIPT and BEST ACTOR at the BFM Film Festival, London 2008. The script is being developed into a feature with the BBC Writer's Room.
'After Everything' (4mins short drama, 16mm, 2006)
Screened at the National Gallery summer 2006.
'Facing the past' (7 mins doc, DV, 2006)
A 25-year old Rwandan comes to terms with his parents death in the 1994 genocide as he exhumes their bones 12 years later, to give them a proper burial service for the first time.
'Our Future Lost' (7 mins doc, DV, 2006)
Docs in remembrance of the children who died in Rwanda's genocide and the orphans who survived. Shot on Sony PD150. For the Aegis Trust in Rwanda.
'A Girl's Guide To Modern Dating' (3m30s, 16mm film, 2005)
Screened at Phoenix Shorts Festival, Shallow Shorts and featured in the Best of UK Film at Edinburgh Film Festival 2005.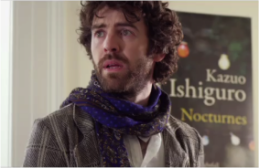 ONE WRONG WORD
Novelist Tony faces the most difficult obstacle yet to publishing his Magnum Opus: his publishers.
A 10min comedy starring Paul Ready (Utopia), Anna Madeley (In Bruges), Tom Burke (The Musketeers, Utopia 2) and Annabel Scholey (Being Human).
*Premiered at Portland International Film Festival, Oregon 2013.

View the film by clicking here.